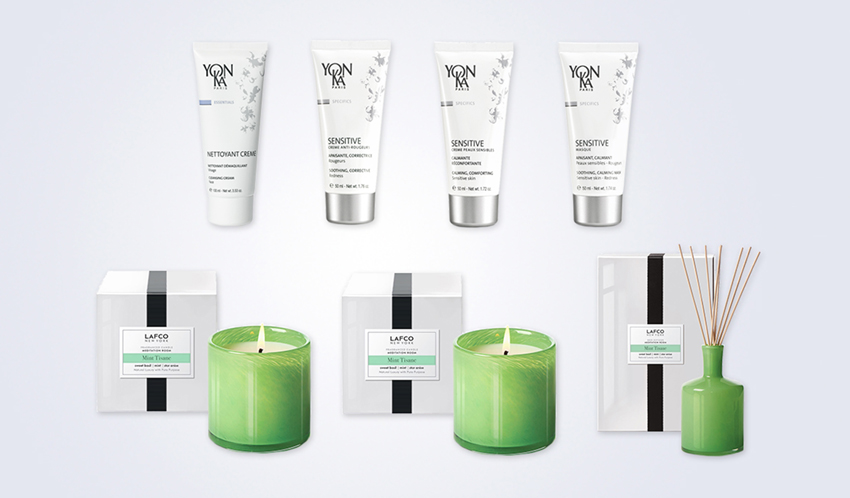 Nettoyant Crème ($38 Value): Experience the comfort of this soothing creamy emulsion with this best cleanser for sensitive skin, that gently cleanses and removes high coverage face makeup. Cooling peppermint derivative produces a pleasant aroma and leaves even the most sensitive skin feeling refreshed. It is powerfully calming for sensitive, reactive, dry, and damaged skin, as well as those with noticeable redness.
Anti-Redness Crème ($68 Value): Potent plant botanicals of centella asiatica and Marvel of Peru work in synergy to visibly reduce the appearance of capillaries and decrease the skin's redness and reactivity. This color correcting formula contains natural green pigments that instantly hide visible redness. Used daily, this anti-redness crème will impart immediate and long-term benefits on redness, -31% after one month.
Sensitive Crème ($68 Value): Rich in a pre- and probiotic complex that boosts the skin's natural defenses and combats physical and environmental triggers, this calming, comforting and desensitizing cream brings immediate and long-lasting relief to sensitized, aggressed skin. Enriched with nourishing and reparative properties this cream helps skin combat inflammation and reactivity, which can lead to premature aging. The sensations of discomfort and irritation are soothed when used consistently.
Sensitive Masque ($60 Value): This crème masque rich in plant extracts of Arnica and chamomile provides immediate relief to sensitized or aggressed skin. Rich in botanicals that help to alleviate inflammation and the skin's reactivity by minimizing redness and heat, leaving the skin feeling calmed and comforted. Used 1-3 times a week, the skin will become more resilient, even, smoothed, and soothed.
Reed Diffuser ($115 Value): Crafted with premium quality fragrances and delivered in a beautiful handblown art glass vessel with hand-cut reeds, our Mint Tisane, Meditation Room diffusers fill your home with luxurious fragrance.
Signature Candle ($65 Value): Hand poured in the USA with up to a 90 hour burn time and delivered in a handblown art glass vessel, our Mint Tisane, Meditation Room candles are naturally luxurious.
Classic Candle ($42 Value): Clippings of basil, eucalyptus, bay leaf, sage and mint are laid out to dry undisturbed on a sun-filled windowsill. Fresh ginger shavings and a few thorns of clove suggest this could be the makings for homemade mint tea.