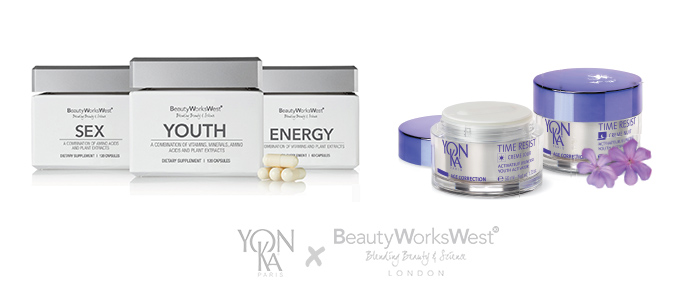 Yon-Ka Paris and Beauty Works West are teaming up to bring you the best skin imaginable…
BeautyWorksWest nutricosmetic supplements are designed to give you the glowing look and the energetic feeling of radiant health from the inside out.
Enter your email below to be entered to win the following beauty supplements and luxury skincare products:
YOUTH ($110 Value): Was it misspent? A while back? Looking for the fountain of it? BeautyWorksWest YOUTH is the one of the UK's best-selling nutricosmetic supplements formulated to support a healthier and more vibrant you. This potent combination of amino acids, vitamins, minerals and plant extracts is the ultimate multivitamin to get your glow on from the inside out!
SEX ($110 Value): No rev in your engine? Just not feeling it? BeautyWorksWest SEX is a super nutricosmetic supplement packed with amino acids, vitamins, minerals and herbs designed to help you get your groove back. It contains our proprietary Oxystorm® complex—a blend of ingredients designed to improve physical activity by increasing your body's natural nitric oxide production. Designed to encourage healthy circulation and enhance libido, SEX puts the poke back into potency.
ENERGY ($110 Value): Need a nap? Craving a pick-me-up? A little boost? BeautyWorksWest ENERGY is a potent nutricosmetics supplement packed with natural vitamins, minerals, plant extracts, and amino acids designed to elevate your enthusiasm and vitality. This feel-good formula provides a natural energy lift without the jitters.
Time Resist Duo ($240 Value): Aging is a part of the natural life cycle, which is predetermined at birth. Aging skin reveals the effects of time passing and the skin can thin, wrinkle, and loose its density and radiance. External factors (pollution, smoking, alcohol, sun, etc.) speed up these phenomena. The TIME RESIST duo is therefore a precious ally for your skin: it provides it with advanced natural ingredient technology that neutralizes the effects of these external factors: controlling the visible signs of aging. At the heart of these velvety and hydrating formulas is an all-new synergy that combines new-generation plant-based stem cells with the anti-inflamm'aging Youth Energy lipoaminoacid, to uphold your skin's youth. At night, the Euglena gracilis and silk tree extracts replenish and revitalize your skin so it appears firm and fresh upon wakening.